Whether you are a beginner or a professional, it is essential to retouch your photos before uploading them to your photography website. In this guide, we introduce you to the best photo editing software for photographers.
The best photo retouching software can help you enhance an image, highlight your key subjects and turn an average photo into something truly amazing.
But the question most photographers face is: how do you choose the right photo editing software to complement your skills?
There's a multitude of photo editing software available, from the best-known systems like Adobe Photoshop and Adobe Lightroom to simple but effective choices like Canva. There are even some great free options.
In today's post, we're going to find out once and for all "what's the best photo editing software for photographers". We will look into the question :
The best free and paid software today
Characteristics of each software
How to optimize your software options
Let's get started!
Why should you edit your photos?
Photo editing is part of the job if you are a photographer. With editing, you can make your already beautiful photos even more perfect by adjusting settings such as exposure, white balance, and color.
In addition, retouching your photos helps reduce the size of your image files. This is especially important if you plan to publish your images online on your photography website or social media account. Smaller images will improve the loading speed of your WordPress sites, which in turn will improve your search engine rankings. In addition, smaller image files will publish faster and with better quality to your social media accounts.
So photo editing is a win-win situation for everyone!
Intuitive and easy-to-use photo editing software can help you save time on photo editing while taking your images to the next level.
1. Adobe Lightroom
It's impossible to ignore Adobe Lightroom when talking about the best photo editing software for photographers. In fact, Adobe products are considered the gold standard in image editing software.
But why is that? What makes Lightroom so great? Let's find out.
Lightroom's clean and easy workspace lets you focus on what's important: your image. The left panel gives you quick access to your image library, so you can switch between photos as you edit them. In the right panel, you'll find drop-down menus that allow you to make quick adjustments, add keywords to your images and much more.
If Photoshop seems too complex and cumbersome, you'll love Lightroom's simple and user-friendly interface.
To immerse yourself in your photo editing work, you need to access the horizontal Lightroom tabs at the top of the workspace. All your basic and advanced photo editing tools are located in the Develop module. From here you can manipulate your photo with lens correction, tone splitting, effects and other basic settings.
Having a centralized panel for all your photo editing tools sets Lightroom apart and makes it super intuitive to use!
And, in the left panel of the Develop module, Lightroom keeps track of your photo edits in a drop-down list called History. So you can easily scroll through your image changes, edit and review them before saving them to a custom preset.
You'll also notice that Lightroom offers a guided tour of each module the first time you open the program after downloading. Unlike other guided tours in the application, the Lightroom tutorial displays all the highlights so you don't miss anything. Thanks to this brief introduction, you will be able to make your own modifications.
Clearly, Adobe has designed Lightroom for photographers of all skill levels. So rest assured, Lightroom's navigable interface doesn't mean it's not powerful. That's what makes Lightroom even more impressive: it doesn't sacrifice functionality for ease of use!
This program is more than just a photo editor. It is also a photo organizer. Lightroom allows you to easily store and organize your images within the program, eliminating the need for an external photo organizer program. Simply assign your photos a star rating based on editing priority – or any other measure for that matter – and get to work!
Lightroom Key Feature
Face detection for photo organization
Camera and lens based corrections
Brush and gradient adjustments
Fixing and blurring tools
Professional presets and filters
Support and synchronization of multiple devices
Adobe Lightroom Extras
Thanks to its library of predefined editing solutions, Lightroom is one of the most widespread photo editors on the market. These presets make it easier than ever to get a specific look at your photos. Simply find a set of presets that works for you on the Lightroom preset market or online, and then apply it to one or more of your images for seamless editing.
Of course, presets work great for batch editing your photos at a breakneck pace. And you can even create your own custom presets, which work as editing recipes for future photo editing. You can always edit preset or custom presets before applying them, or you can adjust their sliders for a custom application, depending on your photo.
With Lightroom presets, you have the ability to continually expand the editing capabilities of the software.
Not to mention that many plug-ins and third-party applications have been integrated into Lightroom to make the program easier to use. Envira Gallery, for example, includes Adobe Lightroom's integration with WordPress that allows you to easily synchronize your Lightroom photo galleries with your photography website.
Adobe Lightroom is available as a single application or as part of one of Adobe's Creative Cloud packages. You can combine Lightroom and Photoshop for only $9.99/month.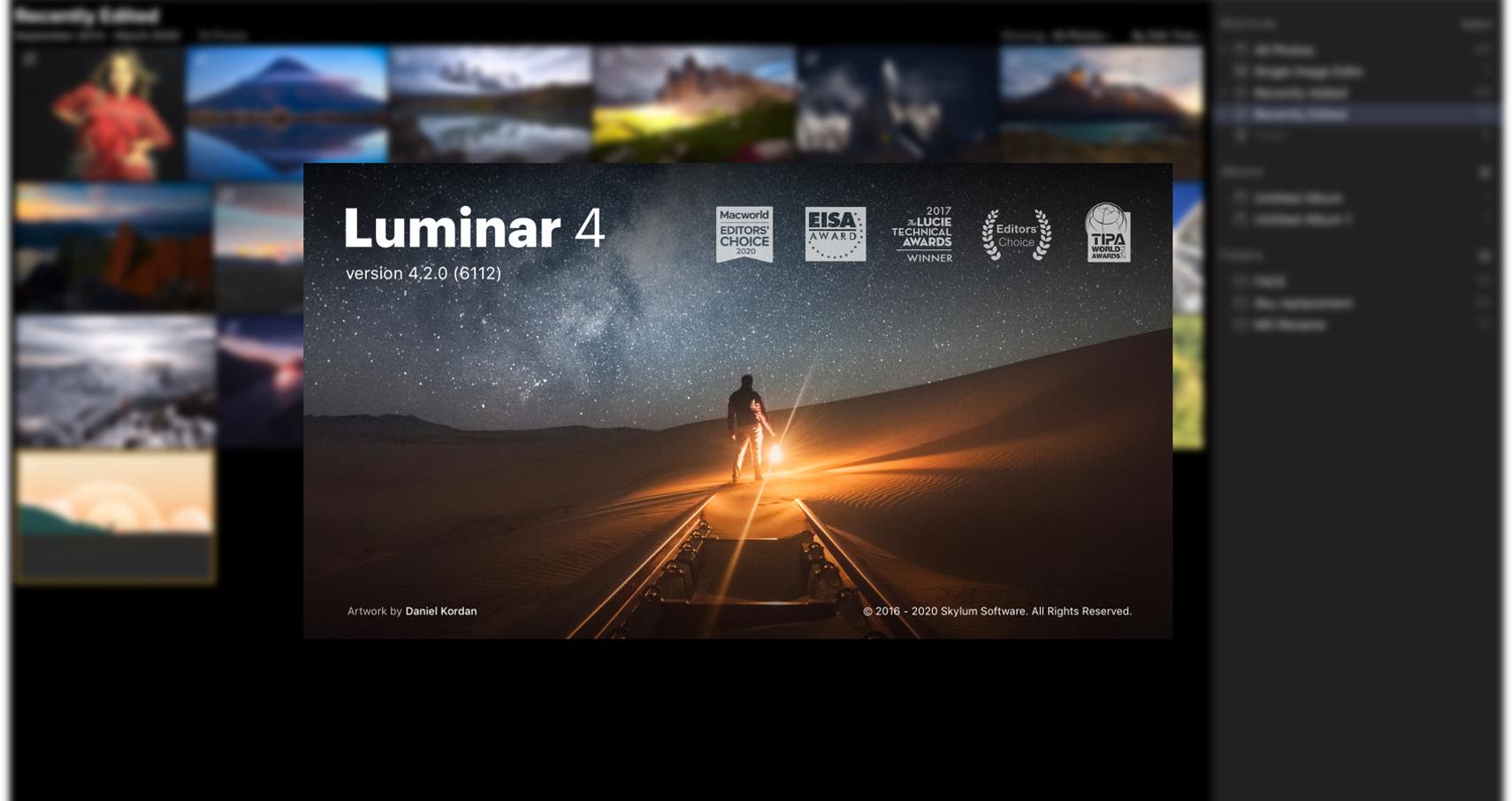 2. Skylum Luminar
For many reasons, Luminar has quickly become one of the most popular editing tools for professional photographers around the world. For one thing, you pay a one-time fee for the program rather than a monthly subscription as you would with Adobe. Plus, Luminar offers a ton of built-in tools and accessories!
Luminar is a one-stop shop for photo editing that can be used alone or as a plugin with Lightroom, Photoshop and even Apple Photos.
Believe it or not, Skylum Luminar uses the same keyboard shortcuts as Adobe's Lightroom. This is especially useful if you are already familiar with the Lightroom interface. If you are, you will find that switching to Luminar is an easy transition given the consistency of the keyboard shortcuts between the two programs.
And, like Lightroom, you can use Luminar as both a photo editor and a photo organizer. Once again, this means that you can upload your images to your Luminar library, so that all your photo editing work is centralized in one place!
Just like Lightroom, you can then sort, label and classify your images in the Luminar Library to make them easier to find. Many also find the Luminar Library simpler and more intuitive than Lightroom's library.
Where Luminar excels over Lightroom are the predefined workspace options. Luminar offers predefined workspaces, each of which is specifically designed for an editing task. For example, Luminar's predefined workspaces include:
Professional
Fast and awesome
The essentials
Aerial photography
Black and white
Landscape
Portrait
Street
In addition to these presets, you can create your own workspace by saving the tools you use most often in an empty workspace.
If this feature sounds familiar to you, Photoshop also offers preset workspaces. But you'll notice that Luminar's predefined workspace options are much more extensive and cover a wider range of photography-specific needs. Everything to simplify your photo editing work!
Skylum's Luminar also offers more editing tools than Lightroom but less than Photoshop. Having more editing tools is both an advantage and a disadvantage: they make it harder to navigate through the program, but they also allow you to do more with your photos.
Here's what we like about Luminar's editing tools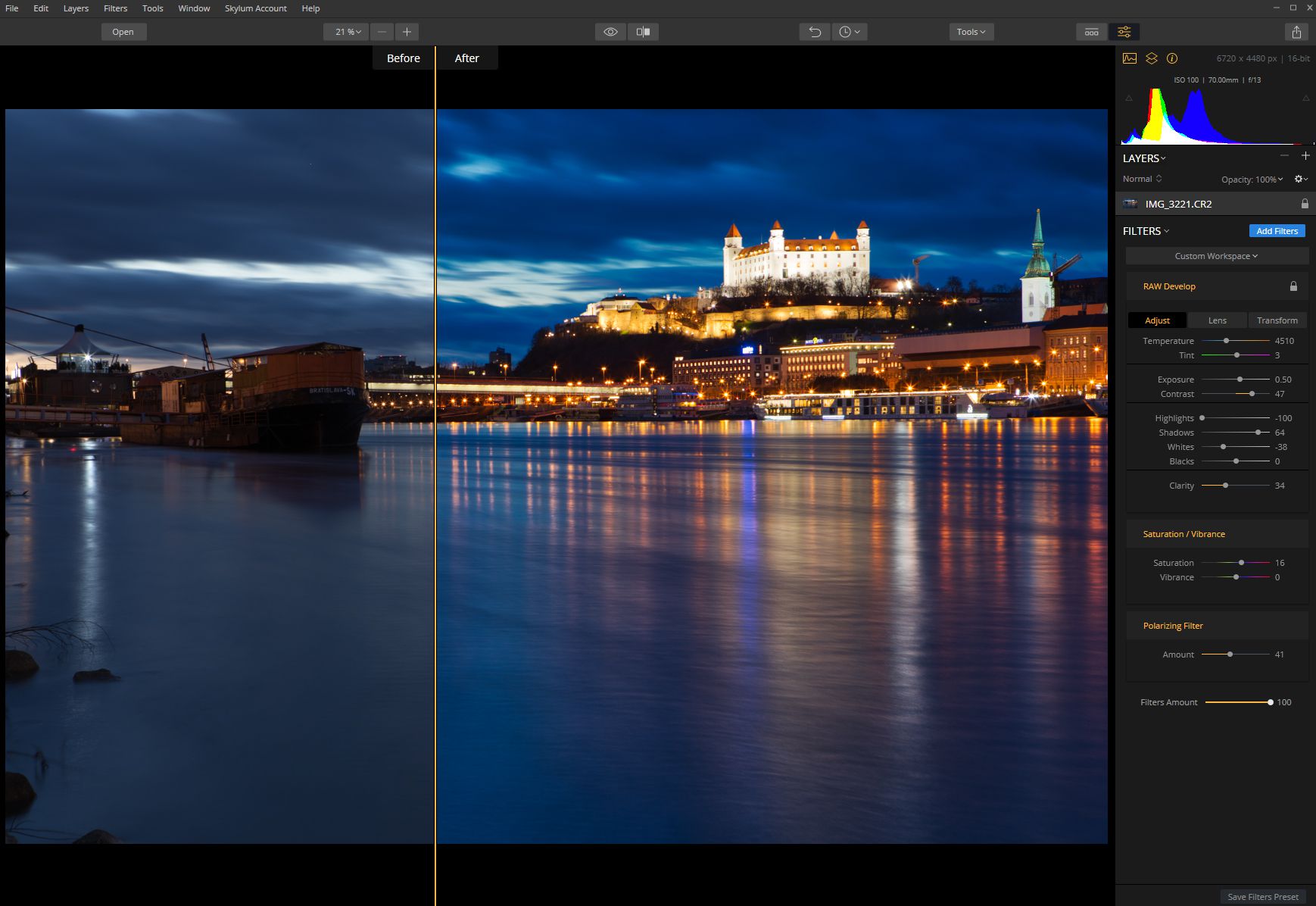 Luminar has gained popularity thanks to its AI slider, which applies automatic quick corrections to your photos, including brightening, clarification, tone and other basic adjustments.
It also has a multitude of built-in tools that make it quick and easy to retouch your photos. These features of Skylum Luminar include :
AI Editor
Exclusive filters such as the Sunrays filter (which allows you to add realistic-looking sunrays to your images) and the Orton filter (made famous by The Lord of the Rings and which blurs some parts of the image while focusing on others)
Fitting layers
Image Layers
Presets dedicated to DJI drone pictures
What we like most about Skylum Luminar is its expandable gallery of luminous looks. These Looks are sets of editing solutions, much like the presets in Lightroom. But the Luminar Looks are even easier to use, and there are even more!
Once you've applied a Luminar Look to your image, you can change the intensity of the montage to suit your photo. You can also create and save your own Luminar Looks, saving you time in the long run.
Skylum's extensive Luminar Looks collection makes it easier than ever to create specific and stylish photos. And, while Skylum comes with its own set of high-quality Looks, you can also find them for free on the Internet. Some are made by freelance photographers, but others are made by popular professional photographers to help you achieve the looks you've loved in their work.
Cost
If you like the sounds of Skylum Luminar, you can buy it online for a flat fee. This purchase gives you access to Skylum Luminar for life! Plus, you get a 30-day money back guarantee.
It's hard to write an article about the best photo editing software for photographers without giving Adobe Photoshop a well-deserved mention. For artists, illustrators, and designers around the world, Photoshop has proven to be a powerful and reliable editing tool.
3. Adobe Photoshop
Interface
We'll be honest, Photoshop is not known for its simplicity. In fact, if you've heard of the Photoshop interface, it's probably because it's hard to navigate! And it's true, Photoshop is not the easiest software to learn. On the contrary, like most things worth doing in life, it requires a bit of patience.
The reason why many beginners in photo editing find it difficult to use Photoshop is that it offers a huge amount of tools. We'll talk later about all the great things you can accomplish with Photoshop, but keep in mind that it tries to shorten the learning curve by providing organized workspaces.
Photoshop offers several predefined workspaces, designed to eliminate unnecessary tools that you don't need for your project. You can find these workspaces under Window >> Workspace in the top menu bar. There you'll find predefined workspace options for Essentials editing, 3D, graphics and Web, and even photography!
These predefined workspaces are a great introduction to Photoshop, as they focus on the best tools for the job. The Photography workspace, for example, puts Photoshop's brush, histogram panel, and selection tools at your fingertips. The 3D workspace, on the other hand, gives priority to Photoshop's 3D panel and 3D dropper.
Of course, as you become more familiar with Photoshop and decide which editing tools you prefer, you can create and save your own custom workspace. A custom workspace that includes only your favorite tools is a great way to increase your editing speed and streamline your workflow!
So while Photoshop can be difficult to master, it doesn't have to be hard to learn. These include predefined workspaces, tool descriptions in the application, and clear tool icons that make learning the program easier. Don't try to dive into it all at once! A piece-by-piece approach to Photoshop will probably be the best solution.
Key Features of Photoshop
Photoshop's masking, retouching and overlay tools are still among the most powerful on the market. However, it is fair to say that these tools may not be the best for basic retouching, which is best left to Lightroom. Photoshop is designed for professionals who need everything they Built-in Photoshop features include:
Sophisticated editing and retouching
Large filters and brushes
Multi-layer assembly
3D design functionality
Pro Editing Tools
Advanced Color Editing
Adobe Photoshop provides tools that you simply won't find in other editing software. If you're a photo editor working on graphic design projects or other more complex work, Photoshop may be the photo editor for you.
Otherwise, if you're looking to retouch your photos before handing them over to clients, you'll probably be satisfied with a more basic program. However, if you find that your photo editing needs increase in the future, you can start learning Photoshop. That way, you'll know how to do your entire photo editing in one program!
Adobe Photoshop Extras
Like many other photo editors on this list, Photoshop can increase its functionality with additional filters. That said, Photoshop does not have as many filters as programs like Lightroom and Skylum Luminar. And, while you can import and use presets in Photoshop, you may find that they complicate your workflow.
Nevertheless, Photoshop offers other unique expansion possibilities. For example, you can import brushes and create your own brushes to use in your photo editing. You can also use Photoshop to create short animations or GIFs using the program's Timeline window.
To be honest, Photoshop's built-in capabilities are already so advanced that it makes sense that the software's ability to extend the functionality of the program is limited needs.