Whether you're making vlog or movies, the best video and photo editing laptops will get the job done quickly, on location or at home.
Tired of hanging around while working on an edit? Switch to one of the best laptops for video editing and you'll get fast render times thanks to the power of the processor and a large amount of memory (RAM). Add a high resolution, high quality screen and you'll be in picture editing paradise. All this performance won't come cheap, but working with high resolution footage is power and memory consuming task, so buying a cheap machine won't be enough and would be a false economy.
Acer ConceptD 7
If you have a lot of money to invest, Acer ConceptD is a series of notebook and desktop computers that have been perfected for designers and publishers. Specifically, ConceptD Series 7 laptops have the power to play without the flashy casing and eye-catching RGB lighting. It's also quiet and stays cool without the noisy fans humming.
Ideal for color calibration, Acer ConceptD 7's 4K UHD display covers 100% of the Adobe RGB gamut, and its color fidelity is Pantone validated, with color accuracy of Delta E < 2. With Intel's latest hexa-core i7 internal components, an Nvidia GeForce RTX 2080 graphics card and up to 32GB of RAM, whether you're processing Full HD or 4K footage, the Acer ConceptD should make it short work.
Apple MacBook Pro 16-inch (2019)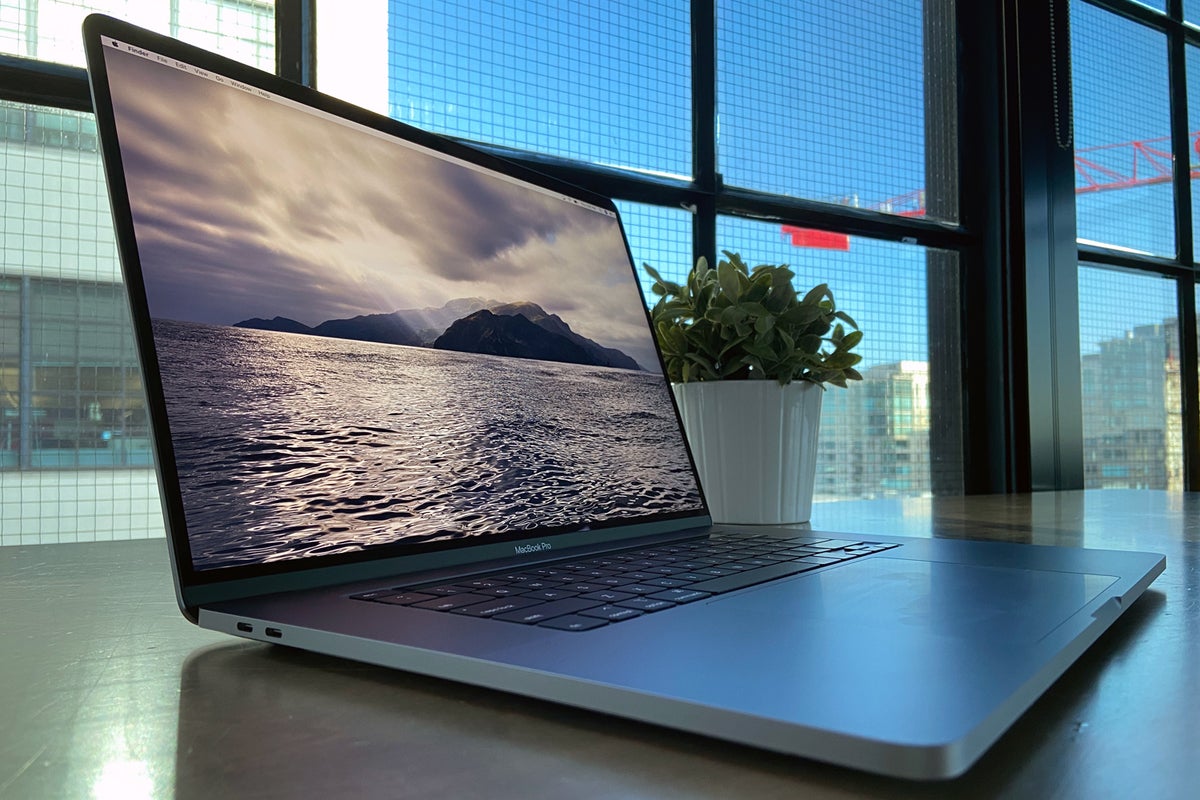 Apple's MacBook line has become the standard for many designers and publishers, and while this is due in part to the prestige the brand has gained in the industry over the past three decades, it also has a lot to do with Mac OS and Apple's incredible trackpad.
The latest 16-inch MacBook Pro can be equipped with a ninth-generation Intel Core i i9 processor, an octave core, 64 GB RAM and a Radeon Pro 5500M graphics card. But even an entry-level 16-inch MacBook Pro should keep you working, whether you're working on large edits or complex After Effects projects.
But it's the MacBook's sensitivity to context that really sets it apart. For example, the touch bar, a touch-sensitive horizontal screen above the keyboard, changes depending on the application you're using. In Premiere Pro, for example, it provides quick options for browsing sequences, highlighting keyboards, and more.
The laptop trackpad vibrates when it interacts with different elements in different applications. It gives you haptic feedback, for example, when you drag sequences to another in video editing applications. Combined with an 8TB SSD and a beautiful, crisp display, it's no wondering so many people love it.
But you'll need deep pockets. At around £3,000/£4,000 for the most sophisticated machine (and you can even spend around £6,000/£6,000 if you exhaust the list of options), it's anything but cheap.
Razer Blade 15
The Razer Blade 15 has the particularity of having an optional OLED screen instead of a traditional LCD screen. With deep blacks and vivid, punchy colors, it looks incredible, and with its 4K resolution equivalent to a pixel density of 282 ppi, it's super sharp – perfect for editing your UHD content.
With its high-performance Nvidia GeForce RTX 2080 Supergraphics, it's up to the most demanding projects, and considering the number of ports it has-three USB-A ports, one USB-C, one HDMI 2.0b port, one Thunderbolt 3 port and a headphone jack-it's versatile, too. If you choose the basic version, you even get an Ethernet port for fast, wired Internet, while the advanced models trade it in for a useful SD card reader.
The Razer Blade 15 can be equipped with a fast 256GB or 512GB SSD for storage and the advanced model can even be equipped with a 1TB SSD. The Razer Blade 15's lightweight design (less than 2.2 kg) and elegant finish still set it apart from its competitors.
Asus ROG Zephyrus G15
ROG (Republic Of Gamers) laptops from Asus have always been big guns designed for ultimate power at the expense of portability. But not with the ROG Zephyrus G15. This relatively slender machine measures 36 x 25.2 x 1.99 cm and weighs only 2.1 kg, which is impressive considering the power behind it.
A powerful 8-core, 3 GHz AMD Ryzen 9 4900HS processor is easily up to the task of intensive video rendering, especially when backed up with 16 or 32 GB of RAM. GPU-accelerated rendering will also be fast thanks to a fast Nvidia GeForce RTX 2060 graphics card with 6GB of VRAM.
But the most remarkable feature is the 15.6-inch FullHD display in 1920 x 1080. Its 240Hz refresh rate will make games and videos smoother, while IPS display technology enables wide viewing angles of 178 x 178° and 100% sRGB coverage for consistent color and contrast.
Microsoft Surface Book 3 (15-inch)
The Microsoft Surface Book 3 is an incredible feat of engineering, with an electromagnetic lock that securely connects the tablet portion to the keyboard without any shaking or jerking in sight.
The notebook can be specified to become the ultimate editing device with Intel Core i7 graphics and up to 1TB SSD storage. It is also equipped with an SD card reader in the keyboard section and supports pen input, whether you use it as a tablet or a laptop.
With Nvidia GTX 1660 Ti graphics, the 15-inch Surface Book 3 can also handle advanced 3D games, video editing and even take After Effects rendering in its stride; and thanks to a 15-inch 3240 x 2160 PixelSense display with a 1600:1 contrast ratio, everything it highlights is superb.
The overall experience is complemented by a long battery life of up to 17.5 hours and ultimate versatility; all in all, Surface Book 3 is one of the most impressive pieces of technology we've ever used.
Dell XPS 15
The Dell XPS 15 is the 4K laptop with OLED display you need if you don't like games. Although its screen is identical to the Razer Blade 15, which is also part of this series, its design and features are better suited for video editing.
For starters, it has an SD card slot, and up to Intel Core i9 power, not to mention a huge 64GB of RAM – and with solid-state storage of up to 1TB, it's also an ideal machine to have if you're ingesting gigabytes of 4K content.
While its Nvidia GeForce GTX 1650 graphics don't measure up to those of the top-level competition, thanks to the Thunderbolt 3 port, you can complement it with an external desktop GPU for more demanding projects – and for quick on-the-fly modifications, it'll more than live up to its name.
HP ZBook Studio X360
Huawei's MateBook X Pro is an alternative to the MacBook with one difference – the difference being that it outperforms the MacBook in a few key areas. It has a beautiful metal frame, biometric security, and excellent speakers, given its thinness, and looks more like Apple's Air than its Pro. It has an 8th generation i7 processor and a full-size USB port, so you don't have to carry a dongle with you.
Given its size, it's excusable that there isn't a more powerful graphics card inside for big editing jobs, but the GeForce MX250 is up to light to moderate editing jobs, and thanks to its Thunderbolt 3 port, it can be complemented with an external GPU when you really need to boost performance.
With 1TB SSD storage capacity, 16GB of RAM and a 3000 x 2000 touch screen, the MateBook X Pro is a slim, lightweight product that deserves your attention. As for its Achilles' heel, its pop-up webcam, while great from a security point of view, is frankly terrible for video calls – a feature to be avoided.
Lenovo ThinkPad P53 (15-inch)
If you're running a business and your video editors don't need MacBooks (even if they want them), the Lenovo ThinkPad P53 is a traditional-looking laptop with incredible internals. Available in options ranging from an entry-level configuration for basic editing to a supercharged version capable of handling huge 4K masterpieces, it's as versatile as your business needs it to be.
One of the only laptops on our list to be equipped with an Ethernet port, the latest version also features two Thunderbolt 3 ports and a SIM tray for fast 4G speeds on the go.
For editors working with HDR content, the P53's optional Dolby Vision 4K touch screen is another level, with tones that other laptops will completely miss. And with a wide range of customization options (up to 128GB of RAM and an incredible 6TB of storage space thanks to three separate SSDs), this laptop will allow you to work on edits and give you plenty of space to store them.
Conclusion
In conclusion, laptops have evolved rapidly and constantly as our lifestyles have changed, with people no longer staying behind their desks. As a result, we needed devices for our fast-paced, mobile lives. Laptops have never been more attractive to consumers because they now offer high-quality processors, comparable to desktop computers, which also offer portability. Since the modern trend has changed – people have become mobile and ready to access their work environment within 24 hours – the features, functions and design of laptops are evolving to fit the user-oriented lifestyles of these devices. Many new types of laptops have been introduced to meet the needs of the digital age.
In other words, instead of having a huge square box with wires, varieties of mobile and affordable laptops have developed to perform office tasks. Laptops are now powerful enough to perform as well as desktops and offer great mobility. Laptops can not only replace desktops but also do the work of tablets. Tablets can have an advantage in terms of size and weight and are ideal for media consumption. However, they have drawbacks when used for serious tasks. Currently, laptops are used to perform many serious tasks and offer light and thin features. Therefore, as technology advances, we should expect innovative laptops to offer new possibilities that may be unveiled in the future.